07 Jun

Wet Felting Online Teaching

The Pros and Cons.

 

You know, the pandemic has taught me a few things. The most valuable one is probably this one.

Do not overthink an thing. Just go for it.

You see, with the pandemic my income was cut in half. All scheduled courses had to be cancelled. And even tough they were paid for; I could not accept any new participants for courses later in the year.

I thought for years about it to bring my wet felting courses online. The pandemic gave me the final push to just do it.

But with everything new, how do I get going. Where do I even start.

I started at the beginning…..

My Local Enterprise office had a course on offer. Online teaching. I enrolled straight away. This course gave me my foundation. I knew what equipment I needed, and I knew the basics of a how to even start recording myself. And like everyone else, it took me a while to get used of hearing my own voice. I cringe every time, but it gets easier.
As I got used to my new toys, creative Ireland invited me to apply for a project they had in mind. As I got accepted with my proposal, the reality of it hit me. I now a deadline to complete 4 online courses.
These are now all available for free via my website. Go and have a look and participate.
And so, I got a taste for online teaching. But what are the benefits of learning/teaching online?
I think the there are many benefits and depending on your lifestyle or circumstances they all matter but may not be as important.
I heard so many times when someone wanted to do a felting course that I was to far away. With online teaching, that issue is gone. If you have access to the internet and a device, you are sorted. I have students now enrolling from all over the world.
The online courses are all pre-recorded. That means, when you watch it, you can stop the video at any time, go back or forward during a lesson. You can also watch it 24/7. Day or night.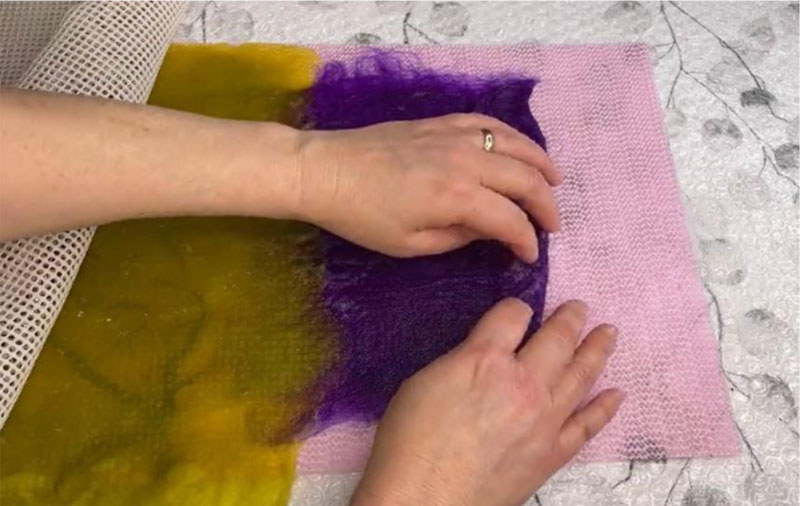 I record everything as if you would stand behind me. You have a clear noninterrupted picture of what I am doing, and nobody else is standing in front of you. The beauty of online teaching is that you can watch the work progress as often as you like. I think that is probably the best benefit for online teaching. If you did not understand it the first time, you can rewatch it again and again. That is something that is not possible during a hands-on workshop. With the possibility of asking unanswered questions in the forum.
We all have busy lives. Online teaching saves time to travel to a venue and saves costs of having to stay over.
You are also under no pressure to finish your piece in one go. Wet felting is a wonderful art medium. Unlike pottery, you can walk away from a started project. You can leave it wet and come back days later to it, even weeks. Online learning allows you to do that. Take as much time as you need and work at your pace.
Most online teachers let you download printable files. I do too and with these you have all you need to go back to creating felt art for years to come.
You will need your own supply of materials. Most online courses will have a list of suppliers available. It's nice to get your own stock of wool or other art material that you can pull out whenever you feel the need for creativity.
And that brings me to the cons of this topic. People that have been at my courses have full access to my wool stash with lots of colours to choose from. Most will buy wool from me when the course is finished, so they can start their own supply of this wonderful material.
Its available here if you would like to have a look.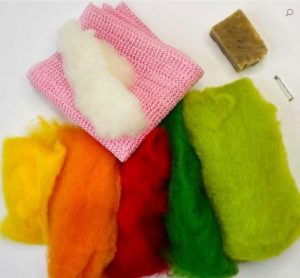 With online teaching you will have to source the material yourself. But the again, that is easily done. I even provide kits for these online courses if you want to save time.
What if I can not do it, or I am no good at it. Well, that's what I thought too when I was starting out with online teaching. Just start at the beginning, you might surprise yourself. Now I know I can not be there in a physical sense, but I am with you every step of the way. You can ask questions and upload pictures. I will guide you from my keypad and give you the support you need to achieve what you want.
For me what I miss the most and what is the biggest con for me personally is the absence of you here in my studio. I used to look forward to the classes and meeting so many people that have become friends over the years. So many have come back time and time again. And I am so thankful to these. The laughter and the chats. Sometimes this is all the therapy one needs.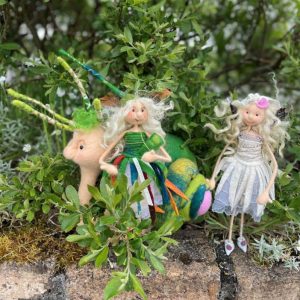 I don't know what the future holds in regard to courses here in my studio. I am taking it slowly. But these that have booked before the pandemic will certainly be honoured.
How do you feel about online teaching? Have you done other courses before online? What do you think are the benefits if any?
Leave your comment in the box and let's get a conversation going.
The link below is to my new Fairy felting course that is starting this June the 18th.
Go and check it out.
https://courses.franziska.ie/p/fairy-felting-course
Happy felting as always.