14 Dec

Four Fun Things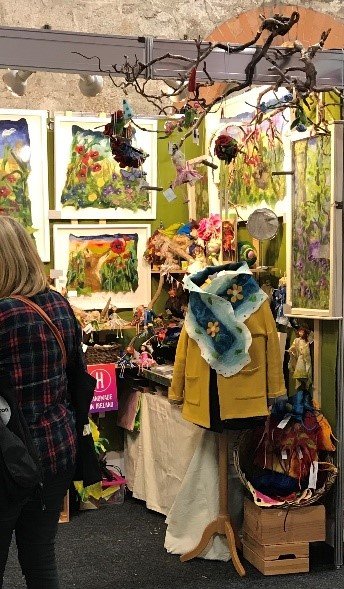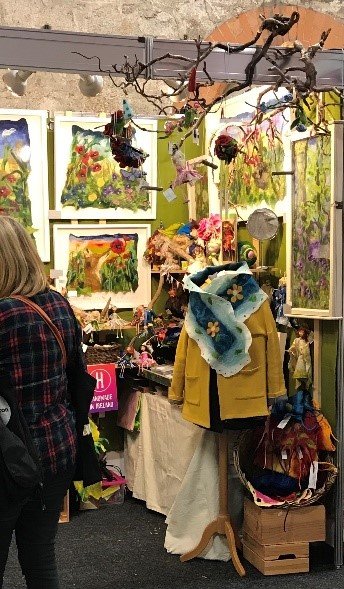 And fun we need with the year that was in it.
Now if you where anything like me, I enjoyed the bit of me and us only time. It was different but also in a strange way enjoyable.
But I think I have enough of that now and would really like to meet you lovely people again.
With that in mind, thanks to everyone that was and still is so patient with waiting to resuming with their booked felting courses here in Ballinameen. There is hope I can welcome you again in 2021.
RDS 2019. This year 2020 it was cancelled.
But back to the fun bits.
Covid in a sense, brought me to a place where I wanted to go for a while, but I put it on the long finger all the time. Why….Because I was scared.
Then I got even more worried when I could not teach in my studio anymore. My Local Enterprise Board was a god sent, as always. They enrolled me into an online course for online teaching. And guess what… it's hard work, but not as difficult as I thought it would be.
Then it got even better when Creative Ireland funded my ideas. Yeahhhh I was on a roll. And under a lot of pressure as they wanted all this completed by October.
Now with a deadline in front of me, I was focused.
I enjoyed creating the online courses. I missed the banter though I have with my students when we are together. But for now, I am happy I can teach again.
4 Fun Courses Online absolutely 100% free.
So, for anyone that thought Ballinameen was to far away, I am right there in your home now.
The courses are aimed at beginners to the little bit more advanced. Children form 8 upwards can easily complete most of the wet felting courses. You will find the online teaching courses on my website under the course dropdown menu.
Here is the link to: https://courses.franziska.ie/